Steel Detailing Process: A Pivotal Step in Developing Sustainable Structures
IndiaCADworks' (ICW) steel detailing process involves the planning and creation of structural shop drawings that can aid steel fabricators as a reference document. Based on the blueprint or the concept design, our steel detailers produce the shop drawings, sectional drawings, and the erection of steel members such as the columns, beams, trusses, etc.
As the city limits are rapidly growing needing more space and vertical expansion is the solution, buildings need sustainable structural designs backed by stringent and accurate steel detailing process. Be it residential buildings, commercial structures, plants, elevators, bridges, or monuments, our steel detailing process is pivotal and an essential step while developing precise steel structures.
Importance of Structural Steel Detailing for Sustainability
Steel detailing is essential for large projects to withstand the rear & tear of time, natural calamities and avoid collapse. Owing to the durability and proven quality of structural steel, it is mostly used in building elegant structures as in shopping complexes, commercial buildings, and high-value residential buildings as well. However, it's an expert's job always!
ICW has been assisting architects in various phases of construction and detailing of steel structures has been in our service portfolio for years now. Our skilled steel detailers or steel fabricators have comprehensive technical knowledge on site maps and drawing blueprints, beams, fabrication details, column positioning, and joists, etc. Moreover, with years of experience, our team understands the objective of different structures, and based on their ideal load-bearing requirement, we also suggest structural improvisations.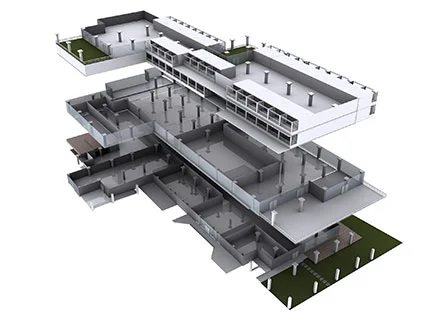 IndiaCADworks' Extensive Steel Detailing Process
As part of our structural engineering service, ICW's steel detailing process includes structural designs, layout drawings, and detailed sectional shop drawings of the steel structure. These deliverables can be the core documents referred by the entire project team including the architects, engineers, contractors, and steel fabricators, working on the project. The process undergoes the steps mentioned below:


Planning Stage Our steel engineers devise a project idea and draw a rough design. The drawing might include details regarding the overall structural layout, mechanical systems, and fabrication.
Actual Sectional Drawings Steel detailers convert the design into perfect yet methodical diagrams for each steel part required in the project.
Detailed Shop Drawings With all specifications, the detailers create shop drawings and plan for making steel members like columns, stairs, metal decks, beams, joists, trusses, braces, and more. The extensive steel detailing would include the following details for each part:
Dimensions
Size
Surface specifications
Material requirements
Welding
Manufacturing instructions
Fabrication instructions
Bolting
Painting specifications
Final Erection Drawings When the steel members are ready, our steel detailers create the erection drawings for field. The erection drawings as well as the rebar designs and detailing give the necessary direction about how and where to construct with the fabricated steel members and are sent to the client.
Scenarios in Which Architects and Contractors Need Structural Steel Detailing
Steel fabrication demands structural steel detailing for creating designs, evaluate cost, and produce the production details. Steel engineers, architects, and fabricators need steel detailing to measure features like complexities around the structure, value, the usage, and load that the structure can bear.
The construction industry today demands the usage of latest tech0nologies not only for accuracy, but also for sustainability and cost-saving. The following are the scenarios when IndiaCADworks can help architects, fabricators, steel erectors: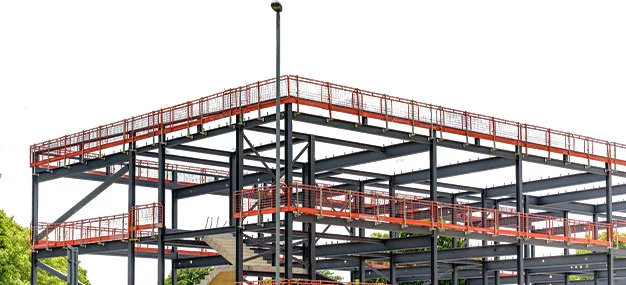 Pre-Engineered Building (PEB) Steel detailing is commonly used in PEB projects. Pre-engineered buildings are building enclosure system, including structural system with roof and wall cladding. Steel detailing is highly recommended in these projects.
Light Metal Framing Steel detailing is used for light metal framing in both residential and commercial market sectors. The model accuracy and smooth communication with other parties associated with the project help in reducing flaws in fabrication and construction.
Aluminum curtain walling and facades Structural steel detailing is essential in façade elements, aluminum curtain walling, and multi-material environment. Detailing also aids in solving complexities around logistics and construction sequences in a practical way.
Bridges Structural detailing is predominant in bridge construction. The detailing helps in fetching accurate details about the steel, timber, composite bridges. It delivers high-end automation for fabrication leading to better project management.
Transmission Towers Detailing of transmission towers include every specification ranging from foundation detail to the constituents and the connections. The engineers refer to the detailing draft for concrete and meticulous construction.
Maintenance and evaluating the lifecycle of the project Steel detailing is vital in large structures. It gives out information like the center of gravity, the weight of the structure, maintenance of the structure, and so on. Detailing is beneficial throughout the lifecycle of the project.
Worth Mentioning Steel Structures and the Significance of Steel Detailing


Circuit of the Americas Observation Tower, Austin The iconic 250-ft tall observation tower serves as a visual finale to the central Grand Plaza and an illustrious aura to the Austin360 Amphitheater. After the project was sanctioned, the time for completion was limited. Therefore, the steel engineers created a Tekla Model (BIM LOD 400). The detailers prepared the steel detailing shop drawings directly from the model, which saved three months, and the project was completed soon.
Beijing National Stadium Also known as Bird's Nest Stadium, was the cynosure during the 2008 Olympic Games. It is the largest steel structure in the world, which was constructed with more than 42,000 tons of steel and took five years to complete. The engineers used Aerospace software to create a 3D model of the stadium. Based on the steel detailing, it was found that existing steel brands were not suitable. Hence a new brand was discovered to meet the requirement of this project.
IndiaCADworks' Steel Detailing Software Capability
Tekla Structures
Tekla Structures is a virtuoso among the steel detailing software. ICW's structural steel detailers, engineers, and fabricators use Tekla extensively to create detailing and 3D models of all steel structures. Our team makes use of the following popular features: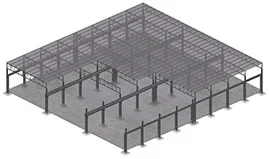 Avoids human errors and rework
Saves time
Facilitates smooth communication and coordination with the help of 3D model
Optimization of the process and profit maximization
ProSteel
Bentley's ProSteel is a 3D modeling environment supporting structural steel detailing. Based on standard platforms – Microstation and AutoCAD, our steel detailers use Prosteel to create 3D models of the steel structures and concrete as well. The benefits include: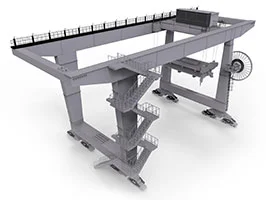 It creates structural reference documentation automatically. The programming interface and the open working environment leads to a standardized program.
ProSteel integrates with other third-party products as well alongside Bentley. This feature subjugates duplicate efforts and enhances coordination with other areas of design, structural analysis, etc.
Autodesk Advance Steel
Designed for the structural steel global marketplace, Advance Steel is a cutting-edge steel drafting and detailing software. It is widely used by our structural steel detailers, mechanical engineers, fabricators, and architects. Advance Steel delivers 3D models of structural steel and more. It generates shop drawing and arrangement drawings, automatically saving time and avoiding rework.

IndiaCADworks – Structural Steel Detailing Partner for Your Projects
IndiaCADworks has pioneered the global construction market over two decades in providing structural steel detailing service. Our pool of drafters, engineers, and architects are industry experts who proficiently cater to all the steel detailing requirements. To know more, contact us today.