Product Design and Development Services
IndiaCADworks' team of highly qualified engineers brings you over a decade of experience in delivering mechanical engineering, product design, and development services. Our success lies in our fundamental cross-disciplinary, iterative design approach. Testing is incorporated early in the design process via simulations and prototypes, ensuring concepts are implementable and meet product requirements. The unique synergies and efficiencies offered by our integrated design and development teams provide the highest design quality and faster time to market. With a depth of experience across multiple verticals, our ideas and techniques add tremendous value to products in numerous industries. Hundreds of companies worldwide have entrusted IndiaCADworks for their design requirements and product design and development services.
Our Product Design Consulting Services
IndiaCADworks provides Digital Prototyping, Product Design Rendering, and Product Design Analysis services to the communication media, consumer product manufacturing, defense, healthcare, media & entertainment, semiconductor and transportation sectors. Our expert team of Product Design Engineers and Industrial Product Designers provide Product Development Consulting and testing services for leading companies, service providers and start-ups globally.
Expertise - Product Design and Development Process
Concept Design:  Our expert team of Product Design Engineers will assess and review your images, CAD files, hand drawn sketches, and other conceptual documentation to turn your concepts to reality and refine your design through comprehensive feedback and iterations.
Preliminary Designs: Our Product Development Team will rapidly generate 3D models and images for your approval, along with daily progress images to facilitate rapid, iterative design.
Sample Prototyping: IndiaCADworks turns these preliminary designs into physical prototypes using a variety of rapid prototyping techniques, including 3D printing, allowing validation of fit, form, and function.
Modeling and Detailing: Using Autodesk, Maya, and 3DS, we provide the detailing of the design, and render as well as animate your design.
FEA: IndiaCADworks offers CAE structural analysis, thermal analysis, and reliability prediction. Our team of experienced Product Design Engineers will perform the modeling necessary to ensure a successful design, preventing unnecessary design iterations.
Creation of Production Drawings: Our Industrial Product Designers turn your preliminary design into a supportable design that can be mass produced using common production techniques such as injection molding, CNC machining, and casting.
Digital Prototyping: ICW offers Digital Prototyping services, providing all-in-one conceptual product design to the manufacturing unit. Our team generates sketches and 3D concept models that provide the option to virtually explore the complete product before production. We design, visualize, and simulate products, validate its manufacturability, and incorporate feedback before moving the design to manufacturing.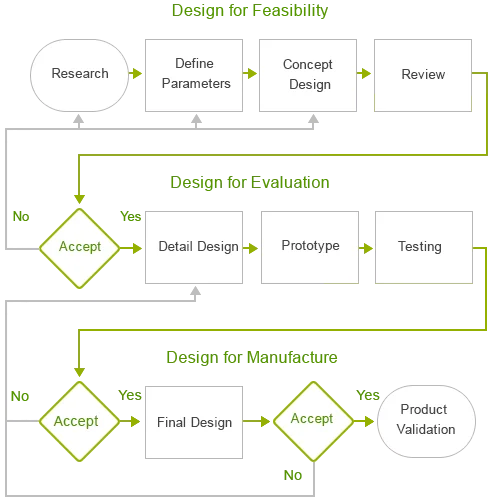 Product Design & Development Benefits at IndiaCADworks
At ICW, we have created true interdisciplinary teams with expertise in different fields for product design and development services. Our familiarity of the market trends and user expectations combined with our expertise denotes an important link from concept to production
ICW has the capability to show clients how a product will feel and look like because we realize the design concepts from our years of experience of working on similar projects. Our engineers design concepts beyond virtual visualization. This helps us and you to carry forward ideas and implement them before design or product finalization.
When you partner IndiaCADworks you get the benefit of product designs that is market ready from the start with a better acceptance rate.
Whether it's your market-pull products or technology push products, our teams have the proven track record of having an innate passion for product design, a strong knowledge of user-centered innovation and hands-on experience building products from concept to launch
With a matchless experience in product design and development, ICW has the domain expertise across all engineering industry verticals.
We use industry's best FEA software and tools, such as Ansys, CosmosWorks, Hyprmesh, LS-DYNA, and MSC Nastran, etc.
Translate Your Product Visions into Reality
Let IndiaCADworks turn your concepts to reality today! The product development methodology utilized at IndiaCADworks is second to none. Design it right the first time with ICW, and watch as we provide a turn-key solution all the way through production drawings and manufacturing.