CNC Programming Services
IndiaCADworks's (ICW) CNC programming services offer multi-dimensional, precision machining that helps in the mass production of complex parts and products without onboarding skilled resources. Along with our expertise in multi-axis CAM technology, ICW understands different types of products and their complex structures to provide accurate and quality Computer Numerical Control (CNC) programming services. From the smallest parts to the most complex segments, ICW's skilled CNC programmers work closely with clients to provide solutions that are tailored to meet and exceed project expectations. We ensure all the projects to be completed by dedicated professionals who are specialized in specific CNC codes and standards.
CNC Programming Expertise at IndiaCADworks
IndiaCADworks has a broad range of expertise and supports all CNC machine manufacturers. The engineering team at ICW supports all machining methods including:
Milling Both vertical and horizontal milling centers, including engraving, profile milling, and pocket milling, etc.
Drilling Peck, interrupted cut, and other methods
Lathe cutting Precise, repeatable cuts that are far superior to manual lathe operations
Whether the client's CNC programming requires incremental or absolute positioning reference point systems, or point-to-point or continuous path positioning, ICW's expert programmers are proficient with every task. The team at IndiaCADworks accounts for clamps, fixtures, spindles, turrets, and all other constraints to effectively eliminate the possibility of crashing on client's machines. Our CNC programming services also cover 5-axis simultaneous machining, 4-axis simultaneous machining, 4-axis indexed machining and more.
Our Six-step CNC Programming Process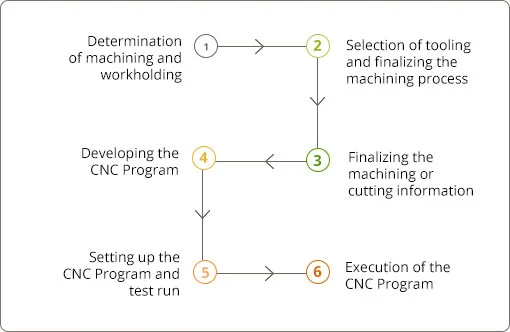 Industries and Materials
Specialized in contract CNC programming services, ICW's expertise can be applied to myriad industries and materials. There is no industry or material too advanced for our team of professionals!
Industries – Aerospace, automotive, and heavy equipment to household goods and electronics
Materials – Plastic parts, high-grade aluminum and steel alloys, and other materials
Project Quality Assurance
IndiaCADworks is committed to the highest standard of quality in all its project deliveries. All our services are compliant with major manufacturing standards as well as the industry-standard quality control processes for the United States, European Union, Australia, and other major markets around the globe.
ICW's expert programmers, managers, and engineers meet the most demanding tolerances and fabrication methods when "industry-standard" simply isn't enough. We at IndiaCADworks help our clients' business excel and provide only the best work, which meets the strictest of the standards.
IndiaCADworks's Customer Service Offerings
Along with our transparent process, real-time status updates, and 24/6 support, the team at IndiaCADworks takes all measures to understand the project scope and work in line with the client's inputs. Our customer service includes but not limited to the following:
Carefully assembled team with experienced programmers to understand the CNC programming needs, suggest changes, and implement additional requests with ease
Constant collaboration with the client's engineering and manufacturing staff to ensure all design specifications are included and the final product meets all the requirements
Effective scaling of the project team as per the client's requirements to meet project deadlines
Support for all levels projects - from extremely precise, complex, and high-value projects, to just additional programming support during a busy period
Support for any size of projects - from one-off rapid prototyping efforts to full-scale, and high-volume production
Experienced-rich coordination and in-time project deliveries to help the clients in keeping their complex as well as intermittent processes run smoothly
Contact IndiaCADworks for all Your CNC Programming Needs
With over 10 years of hands-on experience in many machining environments and specializing in Contract CNC Programming Services, IndiaCADworks provides the highest quality CNC services that cannot be matched by any of our competitors. For more information on our CNC programming capabilities and Jigs and Fixture design offerings, contact us and one of our business development managers will get in touch with you within one business day.