Develop Modern and Advanced HVAC Systems
HVAC (heating, ventilation, and air conditioning) represents one of the most critical parts of building design. Poorly designed HVAC systems can leave occupants feeling uncomfortable. Building owners end up paying too much for energy and it depresses potential building value. IndiaCADworks offers its HVAC construction and design expertise for HVAC development and remodeling services for building high-quality, sustainable HVAC systems.
Outsourcing the development and re-modeling of HVAC systems to IndiaCADworks can benefit -
Architects of large commercial and residential buildings
Engineers designing public spaces like malls
Construction firms working on remodeling projects
Why are HVAC Systems Critical Today?
People have always cared deeply about their HVAC systems. But a few recent trends have brought expertise in HVAC to the surface even more prominently.
First, the COVID-19 pandemic has prompted buildings to be designed with proper airflow and filtration. This can prevent germs, bacteria, and other harmful elements from circulating throughout a building and potentially infecting people.
Second, the importance of sustainability and the need to fight climate change is urgent. HVAC systems, when designed sub-optimally, can become the prime culprit of wasted energy in a building. By installing advanced designs of HVAC in new and existing buildings, energy efficiency can be prioritized for the entire lifetime of the HVAC system.
Services Offered by IndiaCADworks for HVAC Construction and Re-Modeling
IndiaCADworks brings its expertise and extensive HVAC experience to offer the following: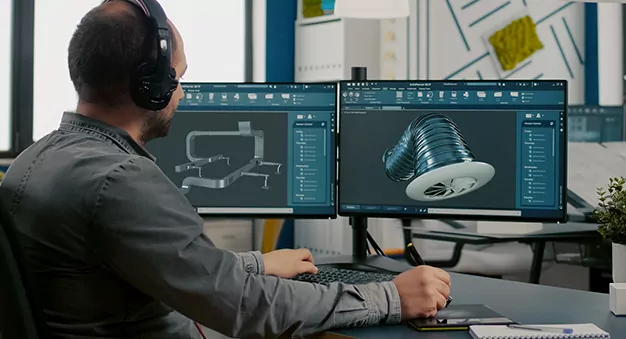 System evaluation and design: We'll review and offer upgrade suggestions for your existing HVAC system.
Load calculations: Computer models can be used to test the strain and resources needed for your current and potential future HVAC systems.
Energy modeling: Understanding where energy may be lost helps optimize HVAC design.
Lighting simulation: Another efficient energy model that can be achieved is lighting simulation to see how that will impact temperature and airflow associated with HVAC.
Carbon footprint and sustainability studies: Building owners want to understand their impact on the planet, so we'll perform a carbon footprint analysis to measure impact and identify areas for potential improvement.
Benefits of an HVAC System
You cannot overlook the benefits of bringing in experts to get a top-of-the-line HVAC system installed in your current or future building. When HVAC systems are treated with paramount importance, many benefits—both in terms of cost and quality of life within a building—can be achieved:
Safer indoor spaces: People are more aware than ever of the dangers of bacteria and airborne diseases. Residential and commercial building HVAC systems can help keep occupants of a building healthy and safe.
Improved air quality: The better an HVAC system, the better the associated air quality in the building will be as pollutants are removed and performance factors are improved. Higher air quality increases comfort, health, and even productivity.
Other health benefits: Keeping the people in a building at a safe and comfortable temperature is one of the key roles of an HVAC system. For businesses, that can even translate to improved revenue as workers are more productive, less likely to call out sick and be happier.
Energy efficiency and sustainability: It's hard to overstate the benefits of sustainability in this age where we're fighting climate change, looking to reduce energy waste, and cut unnecessary carbon emissions. Building owners can do this right while also benefitting the bottom line via reduced energy costs.
Outsourcing HVAC Design and Modeling to IndiaCADworks
If you want to maximize your potential HVAC benefits, it'll behoove you to tap in the experts who have been designing industry-leading HVAC systems for years. That's us at IndiaCADworks.
When you partner with IndiaCADworks on your HVAC design, you'll get the benefit of:
Experts who have already done it all in HVAC to work personally on your project and implement cutting-edge solutions to align with your needs.
HVAC experts who are constantly researching and discovering the latest advances in technology and design, prioritizing consistent temperature, airflow, and humidity in each corner of your building design.
Practices that understand how to accurately size an HVAC system for optimum comfort of the occupants while at the same time performing modeling that would find the ideal load and system conditions to maximize benefits and reduce costs
Get Started Today
Residential and commercial building HVAC systems are too big of a system to overlook. You don't want to incur extra costs by having to redo it better later on. The best way to optimize is to pull experts in today. Get in touch with IndiaCADworks and we'll highlight the ways we can assist.