How Structural Engineering Enhances Design and Construction
Structural engineering is a subsection under the umbrella term of civil engineering. It's no exaggeration to say that developments in structural engineering have revolutionized both the appearance of towns and cities around the world and how we live and work. Advanced structural analysis has enabled interesting and aesthetically pleasing designs, such as the Petronas Towers in Kuala Lumpur and the Shard in London.
New techniques/technologies like parametric modeling and finite element analysis have helped structural engineering to reach new levels of quality, accuracy, and innovation. Be it designing an unconventional building or analyzing the concrete beam load on a physical structure; things are too complex for the regular civil engineering methods.
IndiaCADworks utilize the latest technology and tools to provide world-class structural engineering services including structural detailing and design, structural analysis, steel detailing, safety assessments, risk analysis, material estimation and creative use of individual structural elements.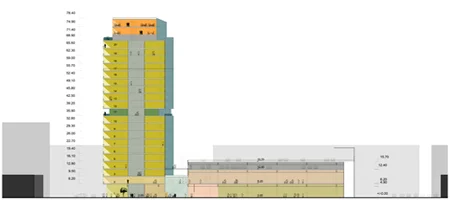 Difference Between Structural Engineering and Civil Engineering
Although they are closely linked, it's important to realize that there are many differences between structural and civil engineering. Structural engineering has traditionally been considered a sub-discipline within civil engineering. But over the past hundred years or so, structural engineering has grown to the extent that it can be considered a discipline of its own.
Let's explore some of the main differences between the roles of a civil and structural engineer.
Civil Engineer
Carry out or oversee the design and construction of a variety of building projects.
Ensure safety, stability, and cost-effectiveness.
Main responsibilities are creating and checking designs and overall supervision of site operations.
Civil engineering also includes other civil infrastructure projects such as water treatment, rail and highway projects, dams, renewable energy projects, etc.
Structural analysis in civil engineering tends to be limited to basic overall design considerations.
Structural Engineer
Carry out the design, analysis, construction, maintenance, and renewal of load-resisting structures.
Have more in-depth and specialist knowledge of structural analysis and design than general civil engineers.
Are experts at finite element analysis, i.e., using mathematics to analyze how each structural element interact with each other.
A good example of how they differ is to look at a typical project. For instance, the design of a water treatment plant may involve a structural engineer to design and build the overall structure. A civil engineer may design and build the water treatment systems and oversee installation and commissioning.
The Role of Structural Engineering
The following points demonstrate the importance of following structural engineering principles when building structures and foundations.
Structural Engineering Design: Designing the Structure and Components
Structural engineering plays a key role in designing both individual elements and the structure as a whole. The intricate design of modern structures calls for creative solutions when defining support and load resistance systems. An expert in structural detailing is needed to provide precise information about foundations, floors, type of roofs, beams, the quantity of steel required, alignments leading to durability, retaining walls, suspension of bridges, etc. Designs are amended, and drawings generated by the structural engineer.
Structural Analysis of Complex Designs and Materials
Use of complex designs and composite materials in modern structures demands effective structural analysis. The focus is on design reliability, safety, strength, material specification, and stress. The design should be based on empirical and scientific foundations.
Structural engineers working as sub-consultants to architects help to delineate internal and external factors, such as load, wind velocity, intersections, nodes, components, and landscape on structural steel systems and utilities. They detail the properties of the structure in terms of support and performance, satisfying building design codes, aesthetic features, criteria, and customer needs.
Structural Safety Assessment for a Stable Structure
Structural engineering helps to predict safety issues and assess the capacity and stability of a structure to withstand static and dynamic loading.
Structural engineers check internal and external forces, including fracture, materials used, earthquake, vibration, creep, structure fatigue, temperature, wind, and dynamics. They also outline potential warning signs of prestressed and post-tensioned structural collapse ahead of time. Structural engineers draw up the requirements for structural serviceability a long time into the future. This helps to plan, design, and construct the structure with a view to the ongoing safety and security of workers, visitors, customers, and long-term users of the structure, avoiding potential dangers.
Cost and Material Estimation Easing the Construction Supply Chain
Structural engineering helps to outline the behavior of individual structural members and the most suitable geometries and material requirements for them. It divides a complex structure into individual elements and creates separate design and analysis for them while providing detailed overall structural analysis.
Structural detailing of steel, fabrication needs, erection height, alignments, reinforced concrete components, composite structures, and replacement designs are drawn up. The process also provides information on steel beams, frames, girders, gantries, and columns. This enables builders to test design efficacy, figure out material quantities needed, and estimate costs while assisting creative and efficient utilization of resources.
Advanced Structural Engineering Software
Structural engineering software has progressed significantly in recent years. They are now capable of conducting complex structural analysis relatively quickly but require highly skilled structural engineers to operate them effectively.
IndiaCADworks typically use one of the most popular software systems, STAAD.Pro, a structural design and analysis package that supports more than 90 concrete, steel, aluminum, and timber international design codes. It is capable of both static and dynamic analysis, including pushover or buckling analysis. STAAD.Pro is commonly used for a variety of structural projects including buildings, plants, bridges, tunnels, rail stations, and other infrastructure projects.
IndiaCADworks also has licenses and skilled staff for a range of other structural engineering software such as:
SAFE software - Used for designing and analysis of concrete floor and foundation systems. It integrates slab, mat and footing design, and is compatible with BIM software.
TEKLA -Mostly used for the designing and construction of commercial buildings and includes workflow solutions as well as structural design tools.
FEA or Finite Element Analysis software – ICW engineers use FEA to accurately analyze each structural element and how they interact.
Contemporary Structural Engineering Techniques Contributing to Sustainable Building Designs
The technological revolution has led to new and innovative structural engineering techniques. One of the most exciting developments has been parametric modeling. Parametric modeling involves the creation of a detailed 3D model of a structure, that can be changed interactively by adjusting design parameters. This makes design optimization much faster and easier.
Parametric design and modeling are quickly becoming engineering best practice, and it is something that IndiaCADworks can help with. IndiaCADworks have specialist structural engineers and parametric design software on-hand to create fully optimized designs in less time than using traditional methods.